Company Profile
OVER 37 YEARS OF EXPERIENCE IN THE TRANSPORTATION & LOGISTICS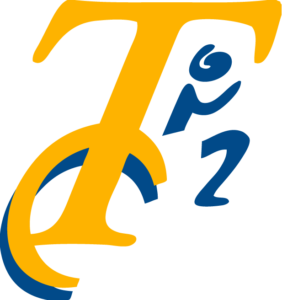 Transport Care Services is a For-Profit Company that is proudly serving the medical transportation needs within our popular Tri-State area of North Carolina, South Carolina, and Georgia.
Our mission is simple – to provide safe, timely, courteous and affordable assisted transportation to all of our clients.
By consistently striving for excellence in customer service and operational efficiency, our team of professional Drivers and Dispatchers are credited with our growing success.
Through a vision of high standards in meeting the transportation needs of a rapidly growing elderly population, our Founder, Christopher Land, has leveraged his 37 years of experience in the transportation industry to create Transport Care Services. A growing demand, coupled with exceptional customer service and operational management, has led Transport Care Service to expand from a single vehicle in 2010 to a fleet upwards of 47 vehicles and growing!
In addition to meeting the needs of our clients, Christopher Land and our senior staff are committed to hiring and developing employees of character and professionalism to support our corporate culture of integrity, continuity and sustainability.
Transport Care Services is an Equal Opportunity Employer headquartered in Columbia, South Carolina. We are certified members of the United Medical Transportation Providers Group (UMTPG), the National Federation of Independent Business (NFIB), the Better Business Bureau (BBB), and the Transportation Association of South Carolina.
2019 Capabilities Statement
Informational handout for Contracts, Bids, RFPs, and RFQs
Recently Awarded Contracts
Veterans Affairs Office of Charleston (VA of Char.):
Transport Care Services has been awarded a 3 year contract, with the VA of Charleston, to provide transportation for veterans within the following areas:
South Carolina:
Beaufort,
Charleston
Myrtle Beach
Georgia:
Savannah
Hinesville
Employees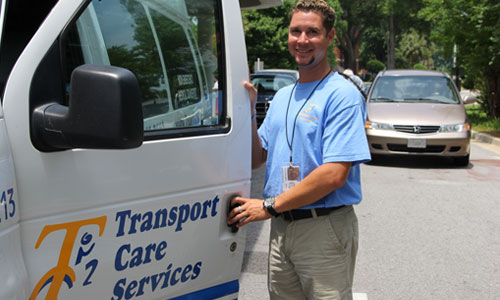 In addition to providing essential services and support to hospitals, nursing facilities, long-term care facilities, dialysis centers, and more, Transport Care Service is a proud employer of dozens of employees. With an ever growing staff, Transport Care Services continues to bring on new hires in order to meet the increasing need for non-emergency transportation. All drivers have been professional trained to handle our clients needs and requests during transportation. We will consistently strive for excellence in the delivery of professional, affordable, and caring service as we seek to assist families in need.
Fleet Details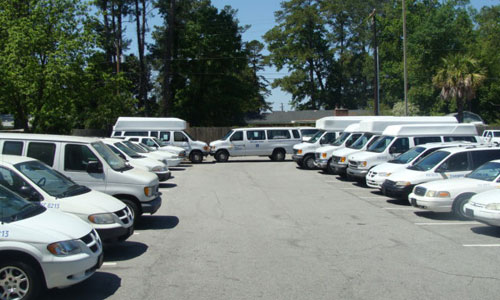 Our fleet includes a variety of transportation vehicles to accommodate any requested service by our individual clients or for partnering contracts.  Each vehicle must pass strict testing and safety standards in order to be suitable for client transfers.  With over 30 transfer vans equipped for stretcher or wheelchair access, our vehicles are ready to deliver our clients safely to their destination in comfort.  If the client does not need a transfer van for their medical condition, Transport Care Services can provide a sedan transfer for the client's daily activities.
Past Performance
Department of Veterans Affairs
8 Total Contracting Actions
Top Office(s): W.J.B. Dorn VA Medical Center
Details: Since October 2012 we've provided transportation services to VA patients who are assigned to Dorn VA Medical Center that are ambulatory and able to walk with or without assistance of a cane, walker or crutches. Also, provide transportation for patients who require a wheelchair and can sit upright in the wheelchair or who lie flat on a stretcher.
Contracts on FPDS.gov: VA Contracting History
South Carolina Vocational Rehabilitation Department
Richland County School District One
Medical Transportation Management, Inc. (MTM)
LogistiCare
NACIS & PSC Codes
485991: Special Needs Transportation
485999: All Other Transit & Ground Passenger Transportation
492110: Couriers & Express Delivery Services
R602: Support: Courier/Messenger
Q999: Medical: Other
V225: Transportation/Travel: Ambulance
V999: Transportation/Travel: Other
624120: Services for the Elderly & Person with Disabilities
811192: Car Wash
811111: General Automotive Repair
624120: Services for the Elderly & Persons with Disabilities
561720: Janitorial Services
492210: Local Messengers & Local Delivery
488410: Motor Vehicle Towing
423120: Motor Vehicle Supplies & New Parts Merchant Wholesalers